Warhammer 40K: Darktide Review - The Good and The Bad
Our review of Darktide - the good and the bad. Is it worth picking up right now?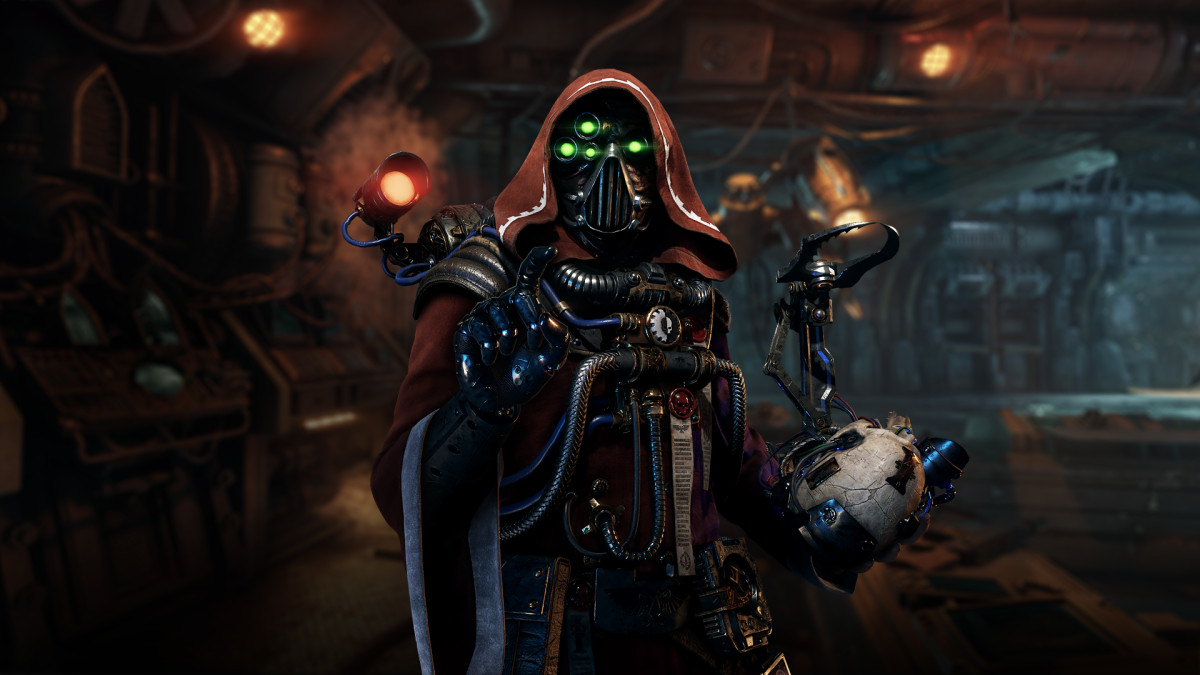 We've been playing Darktide since the closed beta back in October, so we've had plenty of time to get to grips with Fatshark's latest title and figure out the good and bad parts of the game. 
In this review we'll weigh up both, and do our best to give a balanced picture of how good Darktide's value is for potential new players at the time of writing. 
Without further delay, let's get into the review. 
What's Good about Darktide?
The primary strength of Darktide is, without a doubt, its gameplay and combat. 
The game currently includes four playable classes, each of which have a unique playstyle and different options for building them. You can choose from an assortment of melee and ranged weapons on each class, and further customize how the class functions by equipping different Talents, unlocked every 5 levels up to the level cap of 30. 
The Veteran Sharpshooter, as you would expect, focuses on ranged combat, able to deliver high damage from a distance with an assortment of guns. By contrast the Zealot Preacher is focused on charging into melee and disrupting the enemy ranks, although they can also be built with decent ranged ability if you choose.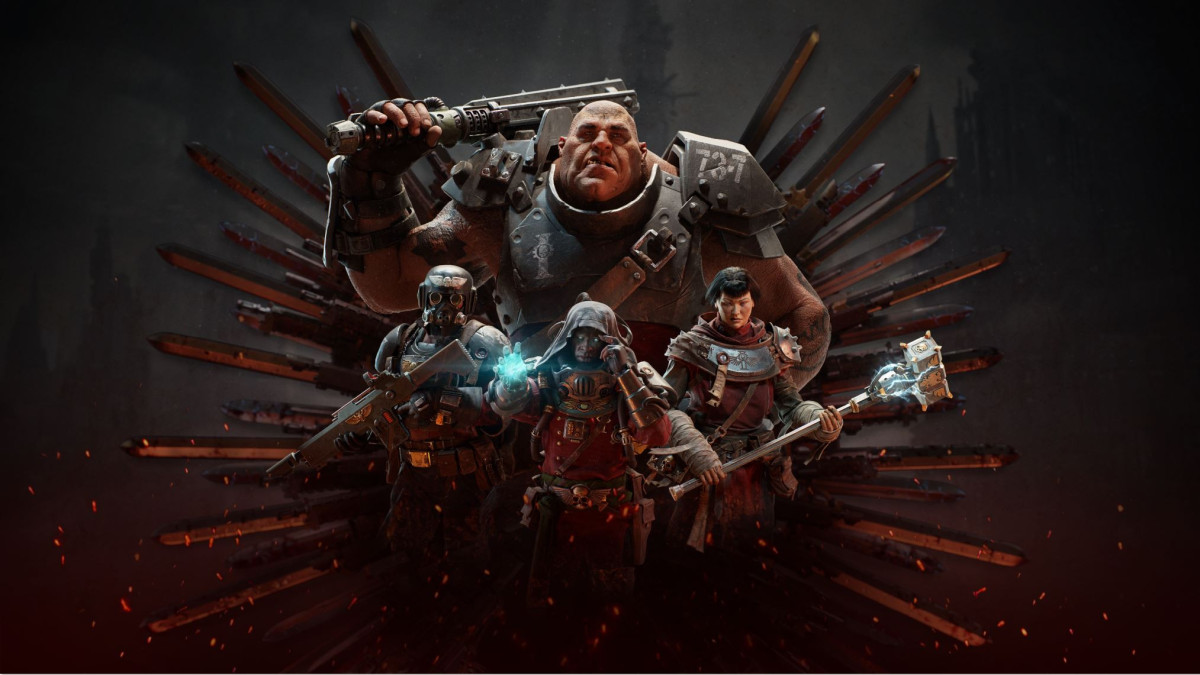 Classes in Darktide
The other two classes are more flexible in terms of their role - the Ogryn Skullbreaker functions most naturally as a melee heavy hitter and support tank, although they can also make use of weapons like the Heavy Stubber to dish out decent ranged damage themselves. And finally the Psyker Psykinetic can call upon the powers of the warp to literally explode the heads of enemies, and they unlock more ways to utilize their powers as they level up, such as wielding one of a selection of powerful staves instead of using a gun, or blocking with their warp powers instead of stamina. 
While the classes don't seem particularly well balanced at the moment, with the Veteran Sharpshooter simply being stronger than the others, this is only a minor issue since there is no PvP in the game, and you can have a lot of fun on any of the four classes. None of them feel like dead weight.
Playable classes are only one half of the equation though - the other half is comprised of the enemies you will face in Darktide.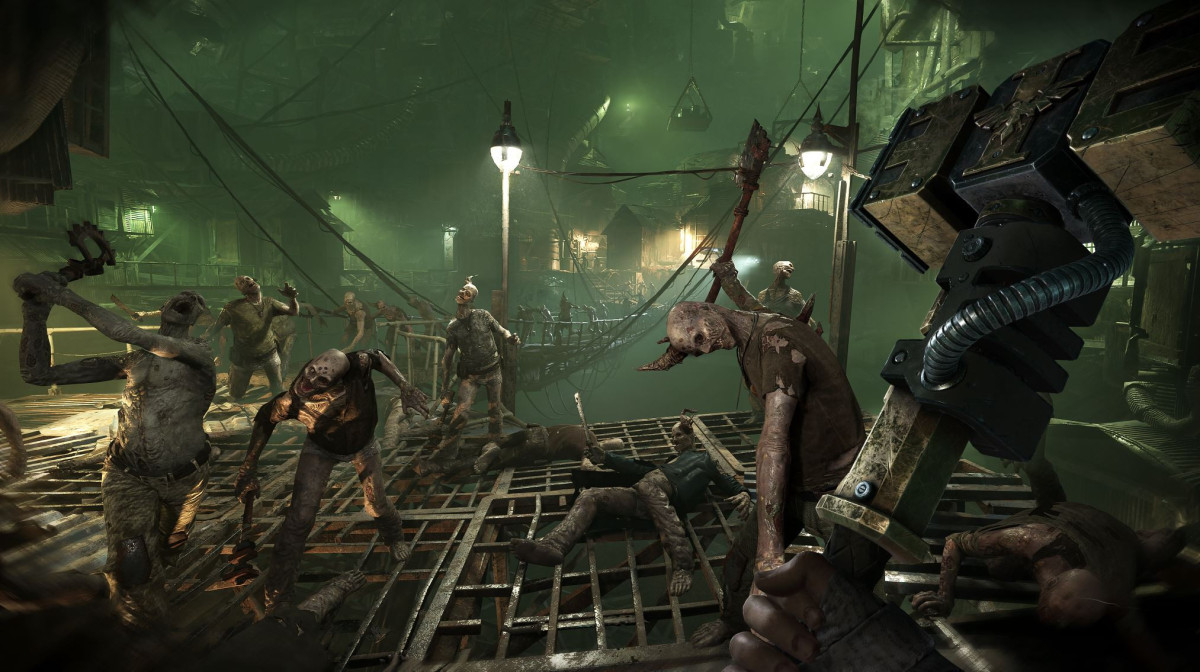 Horde Enemies in Darktide
The types of enemies will feel quite familiar to you if you played Warhammer: Vermintide 2, Fatshark's previous major release. The vast majority of the enemies you face are horde enemies, weak on their own but potentially troublesome in the vast numbers that they frequently appear in. 
You then have more powerful elite enemies who can quickly down you if you fail to block or evade their attacks, and a selection of specialist enemies whose job it is to disrupt and pin down your team. An example of a specialist enemy in Darktide is the Scab Trapper, who will sneak around for a while before firing a net at an isolated player, pulling them away from their team and leaving them vulnerable to attack. This player has to be rescued by a friend to get out of the trap. There are many mechanics in Darktide like this that emphasize the fact that this is a co-op game, and sticking with your allies is vital if you want to survive.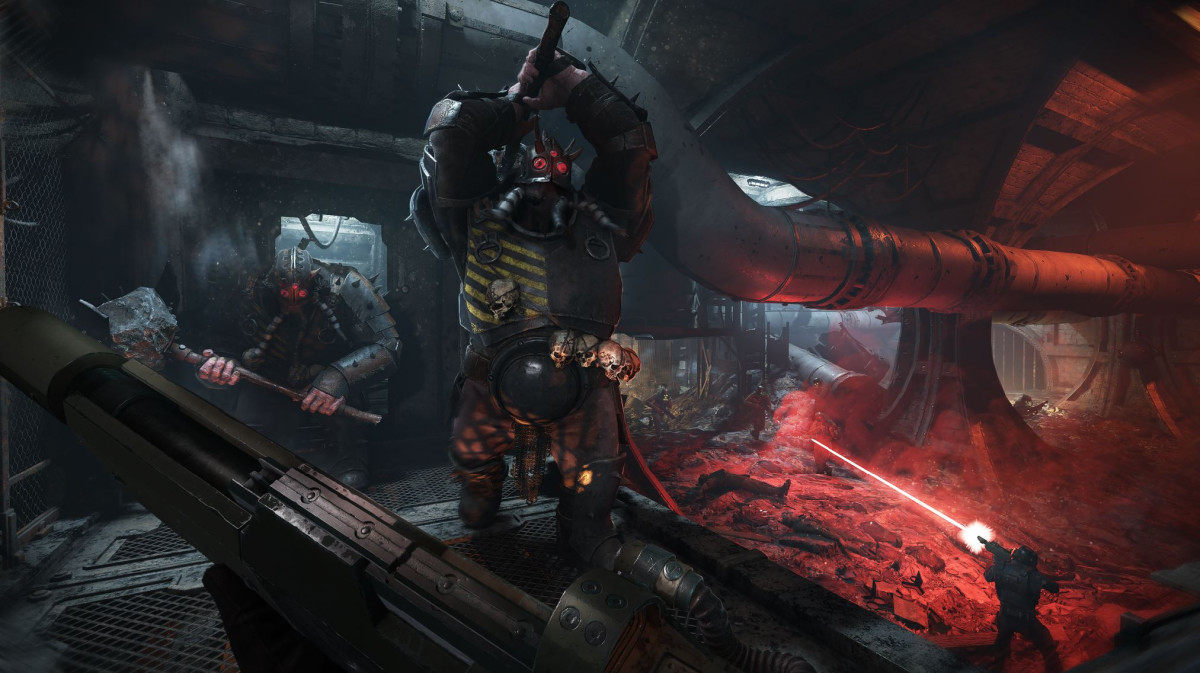 The Crusher - an Elite enemy in Darktide
The combination of enemies in each level - selected randomly by the game's AI Director to provide a unique experience each time you run through a given mission - frequently gels together to create challenging and engaging gameplay. You have to be on your toes, especially on the higher difficulties, as the game can throw unexpected surprises your way with almost no notice, and failing to rise to the challenge can be brutally punishing. 
Darktide's levels all look amazing - the world designers have done a great job at capturing the grim darkness of the Warhammer 40,000 setting, and this is further complemented with the game's graphics. The game looks decent even on the lower settings, and if you're playing on PC with the hardware to crank the settings up high and enable raytracing, it improves the experience even further.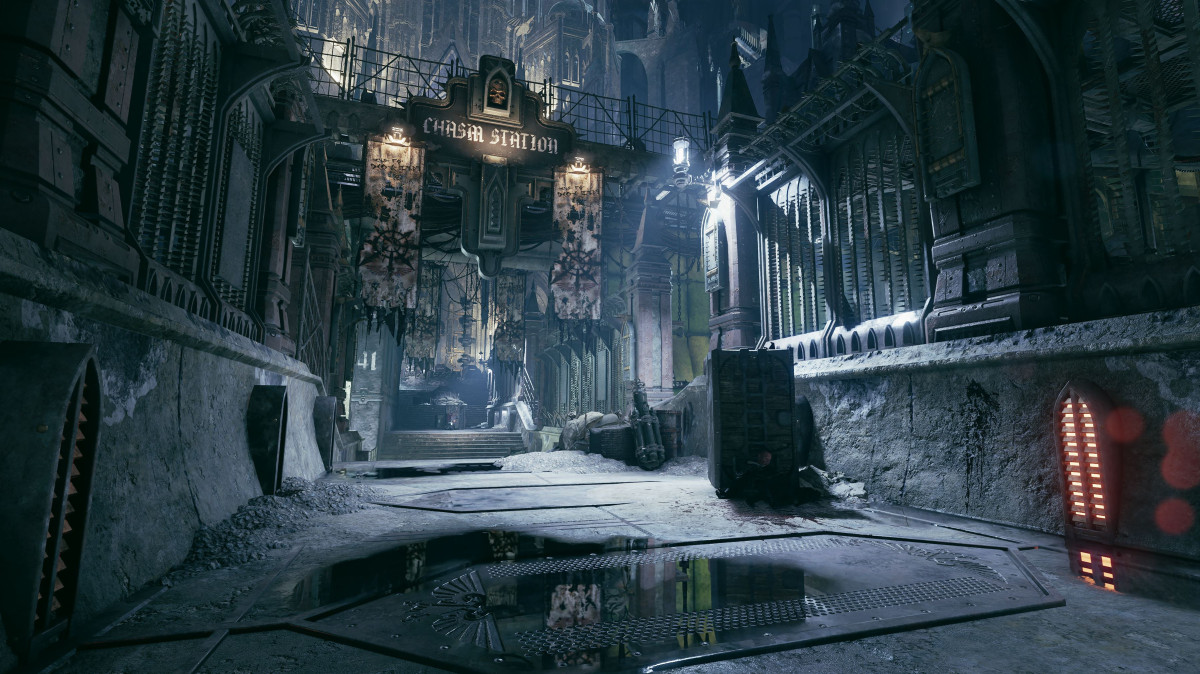 Environments in Darktide look awesome
While it's hard for me to find many things to complain about with Darktide's gameplay or graphical appearance, I sadly cannot say the same about some other aspects of the game, and we'll explore these next. 
The Problems Holding Darktide Back
Even the best of games have at least a couple of flaws - at the time of writing Darktide sadly has more than just a couple. 
The great gameplay mentioned above is held back by some completely bizarre design decisions when it comes to the progression systems that were implemented. At first these problems will not affect you too much, however when you want to start creating an optimized build to progress from "noob" to "endgame", the problems and design flaws become increasingly apparent. Allow me to explain. 
Firstly, there's the unfortunate reality that large parts of Darktide's crafting systems were simply missing from the game on launch, and some of them are still absent now, in spite of promises from Fatshark that they would be rolled out in December. This situation seems to be the motivation behind many of the negative reviews that Darktide has received on Steam.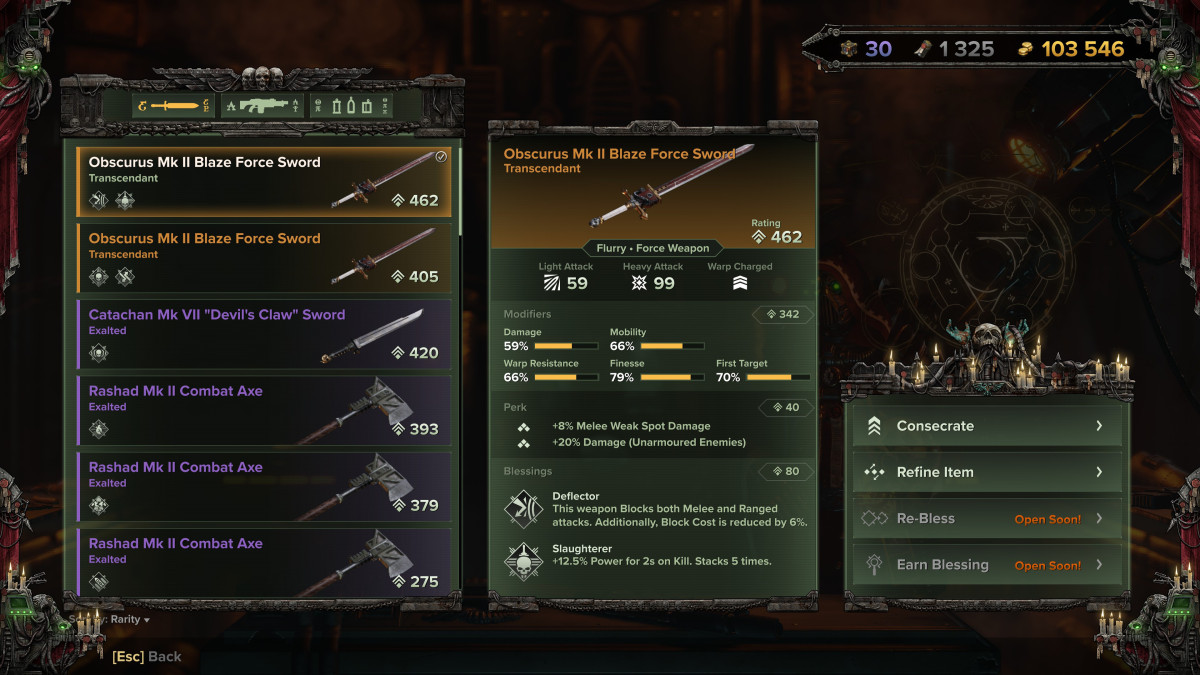 Darktide's Crafting system is currently unfinished
The design of the crafting systems that have been implemented so far are also quite poor in my opinion. Weapons and Curios (extra items that give smaller stat boosts) in Darktide come with a selection of Perks. Actually there are quite a lot of them, but each item only has a couple of Perk slots, meaning you usually need to reroll the weapon using the crafting system to get the perks you want. However rerolling one of the perks on the weapon means that the other one is locked and can never be rerolled. 
Besides Perks, weapons also have Blessings (passive special abilities or stat boosts that come with the weapon). Again, there is a large selection of potential Blessings, and they are also tiered, meaning finding a weapon with the Blessing you want doesn't necessarily mean you want to keep it, if the Blessing is of a low tier.
The part of the crafting system to change weapon Blessings is not yet implemented, but according to information released by Fatshark it will have a similarly frustrating design - forcing you to collect several weapons with the Blessing that you want on your main weapon, in order to mill them into tokens that can then be used to place their blessing on your main weapon. If you want an improved tier of the Blessing, get ready to repeat the process another three times. 
But wait, there's more! Unlike in Vermintide 2 where we could simply craft the weapon we wanted from scratch if we didn't get what we wanted from RNG loot (and the weapon's combat performance was scaled entirely from its Power Level, easily capped out at 300) there is no ability to craft weapons in Darktide. You have to rely on finding the weapon you want from the store, or from RNG loot that can sometimes appear after completing a mission.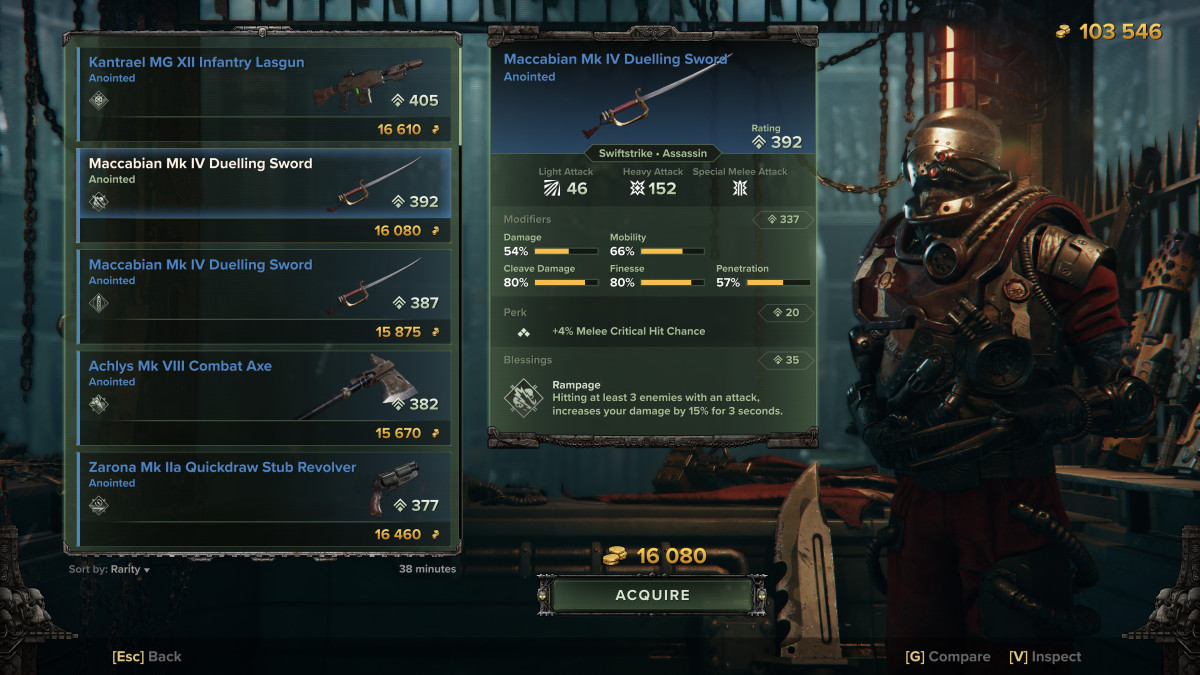 Weapon Armory Store in Darktide
This alone wouldn't be so bad, however each weapon now comes with six stat rolls which cannot be improved via crafting, which means you can spend days playing Window Shopping Simulator in the game's weapon shop, which resets once per real-life hour. You are essentially left begging RNGesus to bless you with the weapon you want with stat rolls that make the weapon worth investing into with the aforementioned crafting systems. 
All of this results in a weird situation for me - I enjoy playing the game for its gameplay, but I sometimes find myself just not wanting to play it because completing missions does not feel rewarding at all - the chance of getting lucky and scoring a top-tier weapon are tiny. No, if you want one of those you'll likely need to subject yourself to an MMO-level grind. This isn't an MMO, and these mechanics seem completely out of place, seemingly designed to keep players engaged in a grinding loop in an attempt to retain player counts so someone can impress their peers in a board meeting. 
Fatshark did a great job at learning from and building upon the successes of Vermintide 2 in the gameplay department, so why didn't they do exactly the same thing when it came to progression? I'm not suggesting that they simply copy and paste the mechanics from their previous game, however the proverb "if it ain't broke, don't fix it" springs to mind - I wish someone at Fatshark had said this at some point during development. 
Conclusion - Is Darktide Worth Buying?
The answer to this question is currently "it depends". If it wasn't for the problems with the progression system I would say absolutely yes, but at the moment I just can't do that. 
Some players are indifferent to heavy grinding and don't mind putting in a large amount of time running through gameplay loops to perfect their build, and if you're one of those players than I'd say go for it - the gameplay in Darktide is top notch.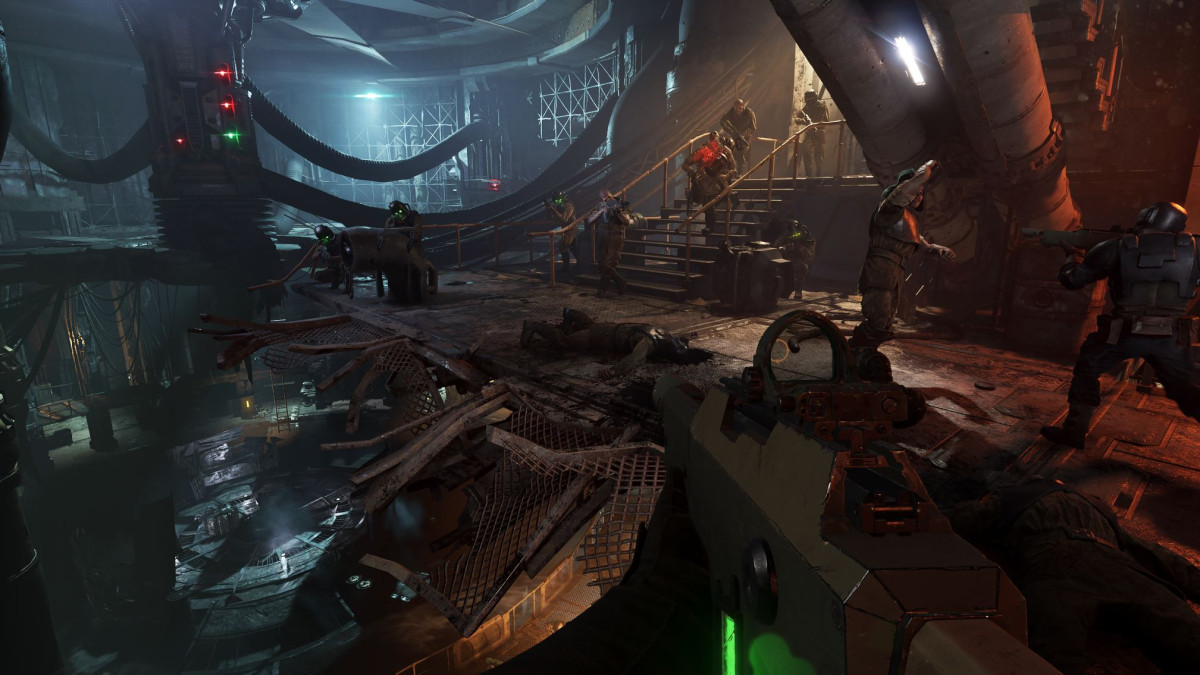 Darktide Combat
For other players though I'd simply advise caution - you can definitely have a lot of fun with Darktide in spite of its problems, but right now might not be the best time to pick the game up. Consider waiting for a sale and keeping an eye on news about the game - Vermintide 2 also had some problems at release but was later brushed up and turned into an outstanding game. Hopefully the same thing will happen with Darktide.